How a judge of the Supreme Court took gifts from a convicted "authority"
The investigation into the case of the illegal appropriation of the lands of the Krasnodar Territory by an organized group of persons has reached a new level. A recent Rucriminal.info article about the judge of the Supreme Court of the Russian Federation Alexander Klikushin (unexpectedly resigned in June 2021). For many, his resignation was surprising — Klikushin's career was "on the rise", he became the chairman of the judiciary in the civil collegium. And then left the sun. As the telegram channel of the Cheka-OGPU found out, in reality, Klikushin's resignation was preceded by a scandalous situation, in reality he was lucky that she was not given a move and was allowed to simply leave the Armed Forces. Klikushin, like a number of servants of Themis from lower levels, made extremely dubious decisions regarding a large "piece" of land and recreational facilities in Sochi. And Klikushin became the owner of ... a plot on this very "big piece".
Об этом сообщает Политика и экономика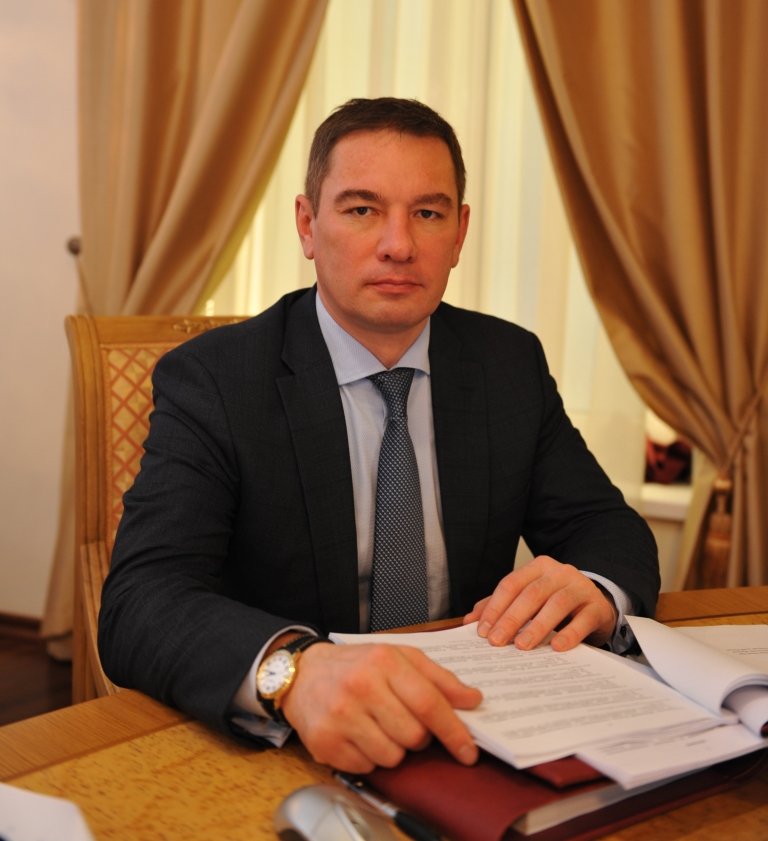 In June 2016, a certain Skorokhod claims rights to the lands belonging to the Montazhnik gardening partnership, indicating in the lawsuit that, allegedly, in 1994, land plots of 2350 sq. m., 1870 sq. m., and 1475 sq. m., located next to her house — for personal subsidiary plots. And the court, one after another, suddenly begins to churn out decisions in favor of Skorokhod. And the team went, as it turned out later, directly from the Supreme Court.
Submitted to the court falsified or illegally obtained documents for land plots, Skorokhod A.L. grants ownership of them. One of these land plots (cadastral number 23:49:0306002:3753) was eventually subdivided into 600 sq.m. (c.n. 23:49:0306002:4154) and 875 sq.m. (KN 23:49:0306002:4153). And then, as information from the Unified State Register of Real Estate says, miracles began ... In 2018, the owner of a land plot of 875 sq.m. became ... Judge of the Supreme Court of the Russian Federation Klikushin A.A.
Enlisting the support of biased (biased) judges who make the "necessary" decisions, Garin A.N., Garina L.A., Skorokhod A.L. and Nazaryan V.A. free of charge received the right of ownership to state and municipal lands in Sochi. A Judge of the Supreme Court Klikushin A.A. contributed to the impossibility of appealing against unjust court decisions, sitting on a high branch of the highest court.
However, as it turned out: Klikushin, with pleasure pinching off tidbits from a juicy pie, is only one of the links in this scheme.
But in order to achieve justice, you need to find the "head" of a rotting fish.
Step by step, unraveling the tangle of machinations and brilliantly constructed criminal schemes, we managed to get on the trail of a certain Garin A.N., a character with an extremely interesting biography and no less interesting and turbulent life in the present.
So, Andrey Nikolaevich Garin appears in the spotlight, who created a criminal empire, and until now has successfully evaded justice. The scale of its development is truly impressive. Not everyone is able to figure out how, as if from a birthday cake, deftly cut off pieces of Krasnodar lands (including recreational facilities) worth hundreds of millions of rubles, and still walk free. Take, so to speak, sunbathing, having a residence permit in Spain and an island of safety away from the robbed homeland.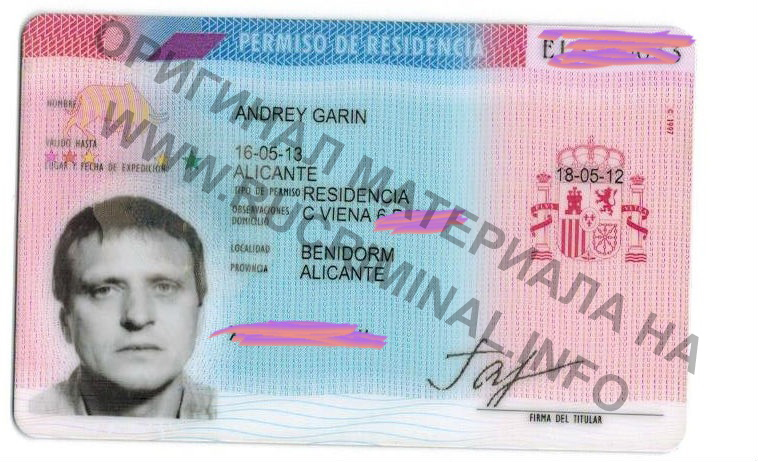 Let's introduce our hero. Andrei Garin, who began his brilliant criminal career with a criminal record under articles 144 and 147 (Theft, Fraud), later moved to Moscow, where he became a racketeer and a thunderstorm of the 90s. In the biography of Garin there are very interesting stories, such as covering up gatherings of criminal authorities. Just imagine… Megamind Garin, who invented multi-million dollar schemes, once stood at the barrier to avoid a raid, while on the second floor of the Presidium of the Russian Academy of Sciences (at Leninsky Prospekt, 32a), in the then existing billiard room, meetings of criminal authorities took place.
According to sources of Rucriminal.info, later Garin moved to Sochi, where he began to weave spider webs and eventually was able to establish contacts with employees of the CSS of the Ministry of Internal Affairs in Sochi. One of the links that connected Garin and law enforcement officers was a teacher at the Moscow University of the Ministry of Internal Affairs of Russia Arutyunov Karen Georgievich.
This was Garin's first step on the way to friendship with the Sochi law enforcement agencies and becoming a "decider". Gradually, this friendship became so strong, warm and profitable that it served as the starting point for joint illegal deeds.
To date, Garin has forged a platinum shield for himself in Sochi from law enforcement officers, the Investigative Committee, the Prosecutor's Office and controlled district courts of the city of Sochi.
Garin is simply amazing with the scale of his influence, a sort of modern snake charmer! In the Regional Court, unlawful decisions in favor of his family are fixed; structures of the Ministry of Internal Affairs initiate administrative and criminal cases against those who conduct independent "excavations" of this case ...
And for years, Garin's scheme worked like clockwork. When the Sochi Administration tried to appeal against the illegal appropriation of land, going to the Fourth Cassation onny and the Supreme Courts, the famous Alexander Klikushin appeared, helping Garin, a colleague "in sharing tidbits." It was very convenient for him to assist accomplices from his untouchable branch in the status of a judge of the Supreme Court.
By the way, a new circumstance has recently come to light: Klikushin, who was given section 23:49:0306002:4153 (part of the demarcated section 23:49:0306002:3753, appropriated by Garin's mother-in-law) as a gift for his help, is expanding his territories and has already taken possession of the border section — 23:49:0306002:1363. Also on this site there is a certain "hoz block". And interestingly, the cadastral work was carried out not by anyone, but by the same cadastral engineer, which is listed in the Garin extracts from the USRN.
Surely you have become interested in studying the "Garinsky scenario" and its main characters in more detail. Well, now you have such an opportunity.
Garin A.N., being convicted, tried to hide his identity and therefore attached to the case the wife's mother, pensioner Skorokhod Aida Leonidovna, as well as a close friend (and at the same time an assistant in managing household affairs) Nazaryan V.I. to register the extracted plots in their name. By forging acts of land transfer, they appropriated the lands belonging to the Administration of the city of Sochi (over 4,000 square meters in total) and took them away from the townspeople through the courts.
We bring to your attention a list of cases considered by the Lazarevsky District Court of the city of Sochi, according to which the "enterprising" family managed to get hold of the lands:
• Case No. 2-1445/2013, in which Garina L.A. appropriated a land plot of municipal property with an area of ​​about 600 sq. m.;
• Case No. 2-1594/2015, in which Skorokhod A.L. appropriated a land plot of municipal property with an area of ​​804 sq. m.
• Case No. 2-927/2018, in which Garin A.N. appropriated a land plot of municipal property with an area of ​​about 450 sq. m., paying only 2.5% of the cadastral value;
• Case No. 2a-2115/2018, in which Garina L.A. appropriated a land plot of municipal property (with a water body) with an area of ​​1195 sq. m.;
• Case No. 2-1175/2019, during which it was established that Garina L.A. occupied a part of the land plot from the lands of non-delimited municipal property, while the claim of the Administration was denied.
•
Case No. 2-1836/2016 deserves special attention. Here Garin, on the basis of fictitious documents concluded between him and citizen Kharchenko N.I. (which, it must be said, was under active pressure), appropriated through the court a land plot intended for the operation of a recreational facility-pump room, with an area of ​​910 sq. m. Garin bought this object for a suspiciously low amount of 12% of the market value, namely for 886 thousand. After this incident Kharchenko N.I. disappeared, and Garin re-registered the object for his mother-in-law. Now the cadastral value of this site, according to an extract from the USRN, is 33.5 million, and the market value is about 60 million. When considering the case, the court did not appoint an expert examination and did not involve the Interregional Territorial Administration of the Federal Property Management Agency. Do not forget to note that the Department of Property Relations of the Administration of the Moscow Region filed a cassation, and the case, after 6 years, will be re-examined on April 12, 2022.
We gradually approached another topic that is of interest to us, but for some reason not to law enforcement agencies. This topic sounds like "Garins and taxes". We must pay tribute to the head of the family — he did not blunder here either, he managed to build his own tax payment system, bypassing all laws — that is, the absence of this very payment.
Garin A.N. is unemployed, he is not registered as an individual entrepreneur and has no official sources of income. But at the same time, his life is fabulous: he acquires real estate in Sochi, which he then sells or gives away. Do you also have a thought, where does the unemployed get money for real estate in Sochi? Perhaps, in his turbulent life, he closely communicated not only with criminal authorities and racketeers, but also with the fairy godmother and old man Hottabych?
So, returning to taxes: the Garin family has an impressive property, from 2010 to 2016. They kept a hotel with rooms for vacationers. At the same time, they do not declare their income. As well as do not pay taxes on the sale of land and real estate. Who else can go so frivolously against all laws, and at the same time be as if under a glass cap: they see everything, but pretend that they can't reach it? ..
And after all, the guardians of the law not only turn a blind eye to Garin's growing exponential appetite for the illegal appropriation of land, but also help him. For example, putting pressure on people who interfere with Garin's schemes.
We will show you the fact of illegal forceful pressure from officials using an example, case No. 2-1934/2015 of the Khostinsky District Court.
In 2015, a friend and accomplice of the Garins, Nazaryan V.A., without being too modest, appropriated 11 land plots with cadastral numbers: 23:49:0306002:1393, 23:49:0306002:1400, 23:49:0306002:1391, 23:49:0306002:1403, 23:49:0306002:1387, 23:49:0306002:1396, 23:49:0306002:1404, 23:49:0306002:1407, 23:49:0306002:1392, 23:49:0306002:1408, 23: 49:0306002:1389, with a total area of ​​almost 11,000 sq.m.
Impressive scale, right? Forged documents indicated that Nazaryan allegedly bought these plots from the rightful owner — Kosenkov V.P. in 2001.
At the time of the scam being turned by our heroes, Kosenkov V.P. was in prison. After his release, he learned about the deprivation of his ownership of 11 land plots and planned to file a complaint about the crime with the Police Department of the Khostinsky District Department of Internal Affairs for the city of Sochi.
But, as you might guess, his plans did not materialize, because the desire to return the property was shattered by threats, pressure and falsification of evidence. Here, the corrupt connections of our solver Garin with high ranks from the law enforcement agencies of Sochi showed themselves.
Nazaryan sold 9 out of 11 of these plots, but the money from the sale, it's easy to guess, was sent to the instigator of this scam.
As you can understand, the web of illegal machinations woven by Garin and his closest relatives and friends is as strong as steel ropes. And it is made indestructible by the bribed law enforcement officers of Sochi, suppressing the attempts of the initiative group to achieve justice by threats and fabrication of administrative and criminal cases.
Only an investigation at the federal level can lead to a result, and there really is something to understand here: bribes to employees of the administration and local law enforcement agencies on an especially large scale; misappropriation of municipal and personal property worth millions; unofficial receipts of income on which taxes are not paid.
The struggle for justice that has been going on in recent years needs to be strengthened and replenish the ranks of the right side. Until that moment, complaints to the federal departments did not bring results: they were transferred to the local subdivisions of Sochi, where, of course, one cannot even dream of any objective investigation — after all, the "guardians of the law" themselves are involved.
However, you should know about the first victory of justice: after the public disclosure of the machinations of Skorokhod A.L. on the appropriation of three land plots allegedly transferred to her by the Montazhnik gardening partnership in 1994, at the second consideration of the case on January 20, 2022, Skorokhod denied the claim for "recognition of ownership of garden plots and real estate" (case number in the first instance — 2 -1833/2016, now case no. 33-1088/2022).
I must say that the recognition of the illegal transfer of ownership of Skorokhod plots of 2,350 square meters. m., 1 870 sq. m., 1475 sq. m. happened after the departure of Klikushin from his post in the Supreme Court. And also after the publication of a revealing investigation into this case by Rucriminal.info.
This time, the truth prevailed. But the question remains: how will law enforcement agencies react to the fact that in the court of first instance the judge was presented with falsified documents, and more than once? And will the force continue to be on the side of truth, or will the elusive decider build even stronger ties with high ranks?
At the end of the materials, we will leave a comment under the article about Klikushin, expressing our general thoughts: "I wonder if there is a crime, the criminals are known, why do the valiant law enforcement agencies rest?".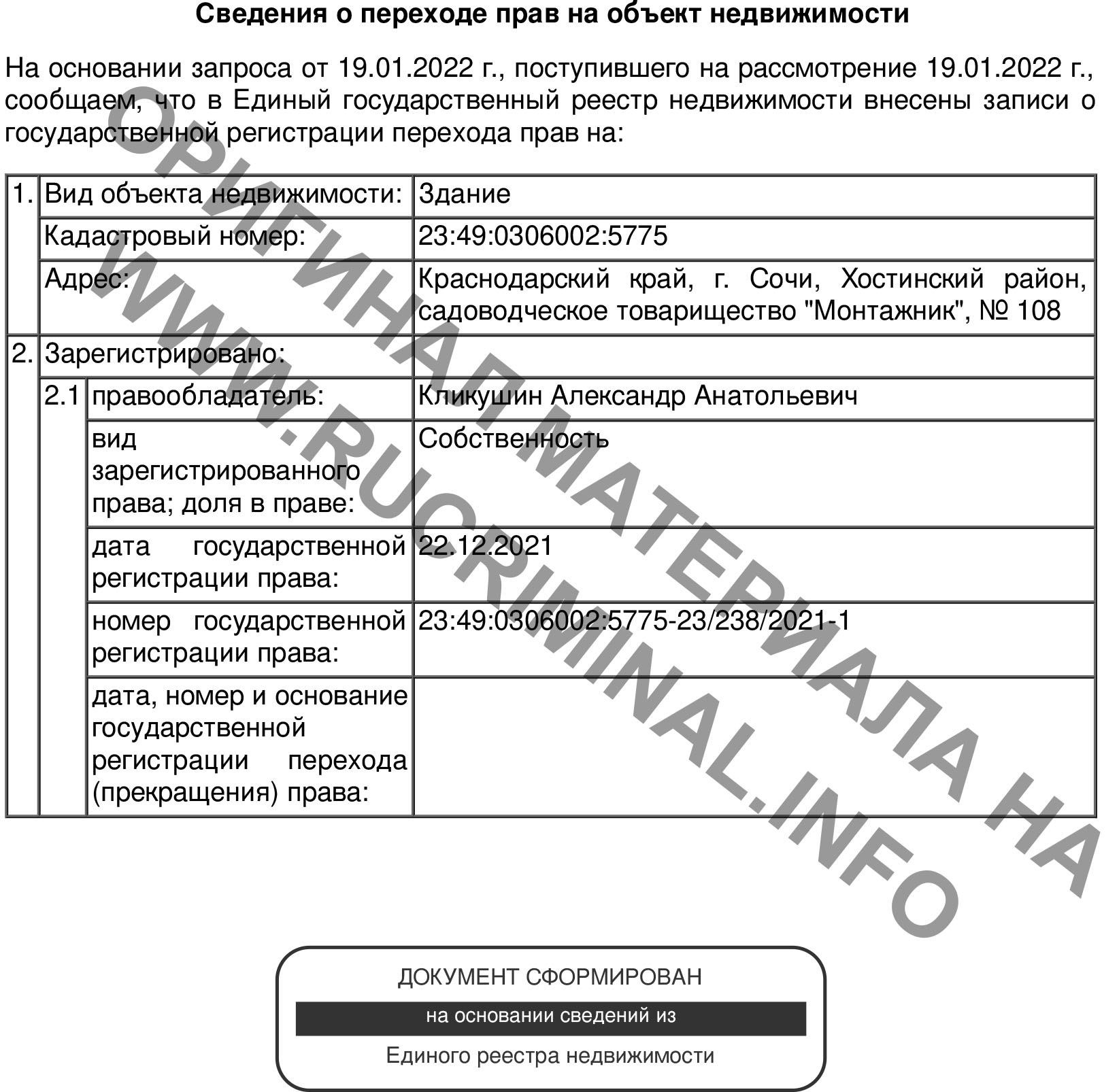 This question really deserves reflection. We will end on it. And let's hope that this accusatory, backed up material will be difficult to ignore. It's time to open your eyes.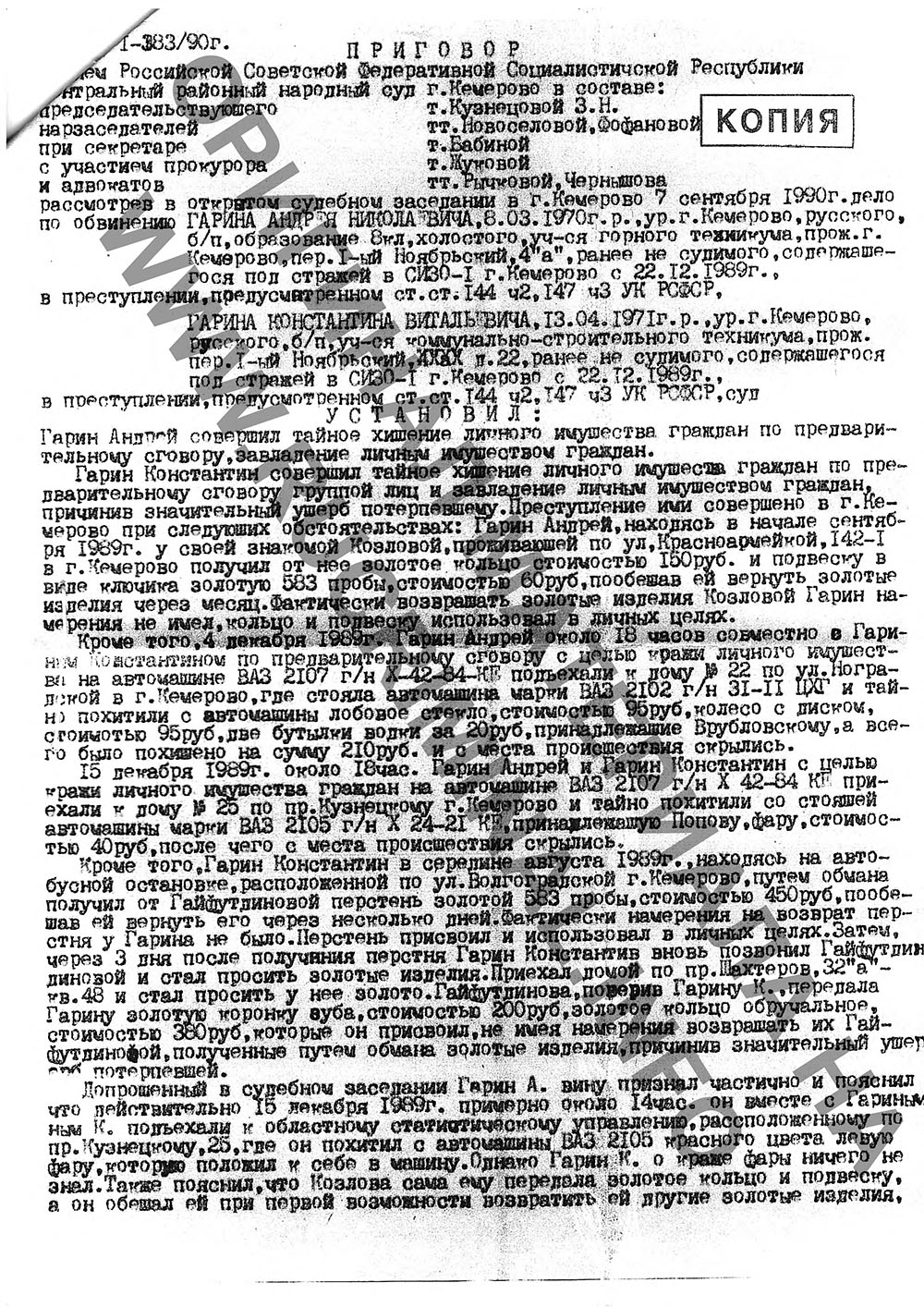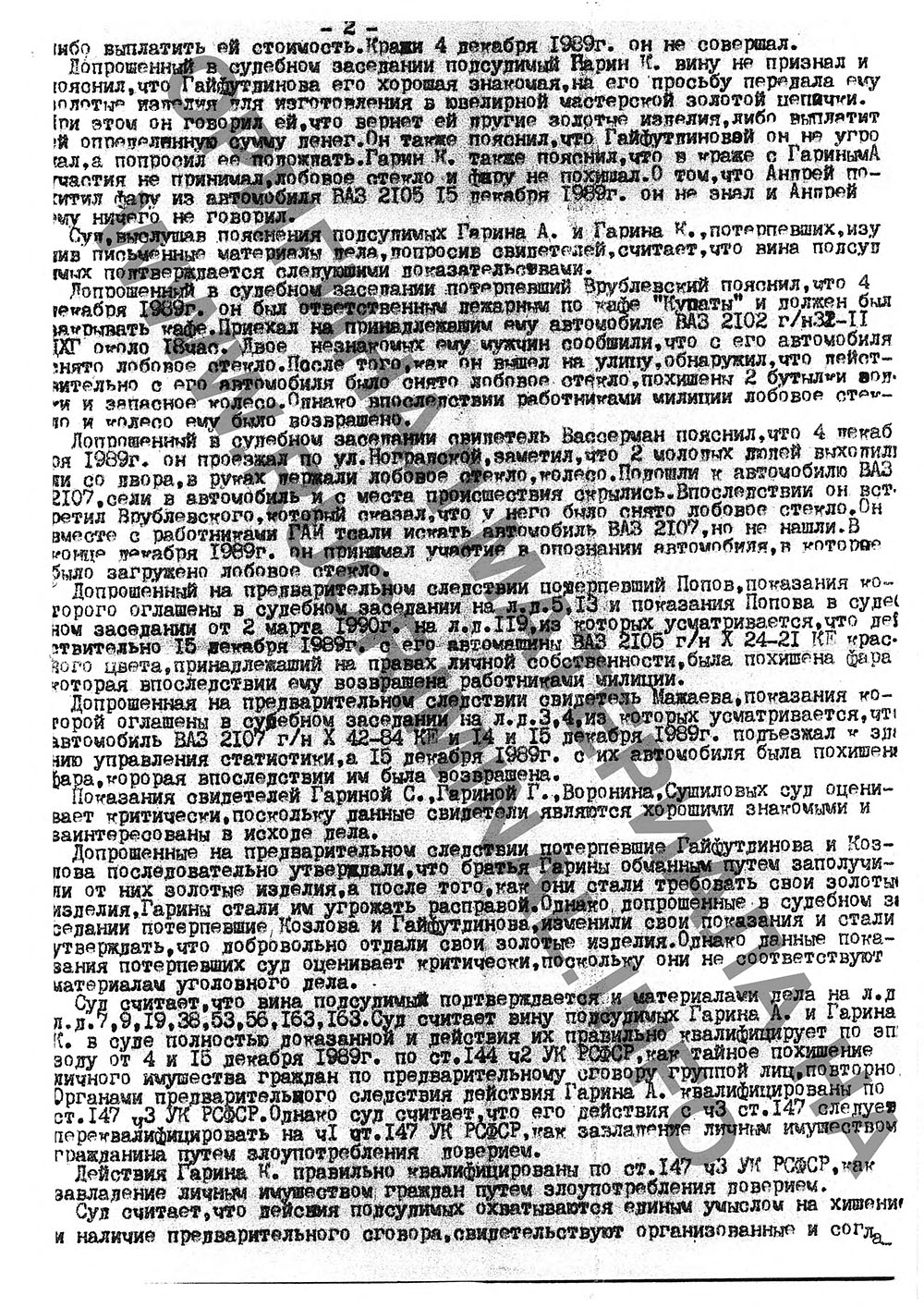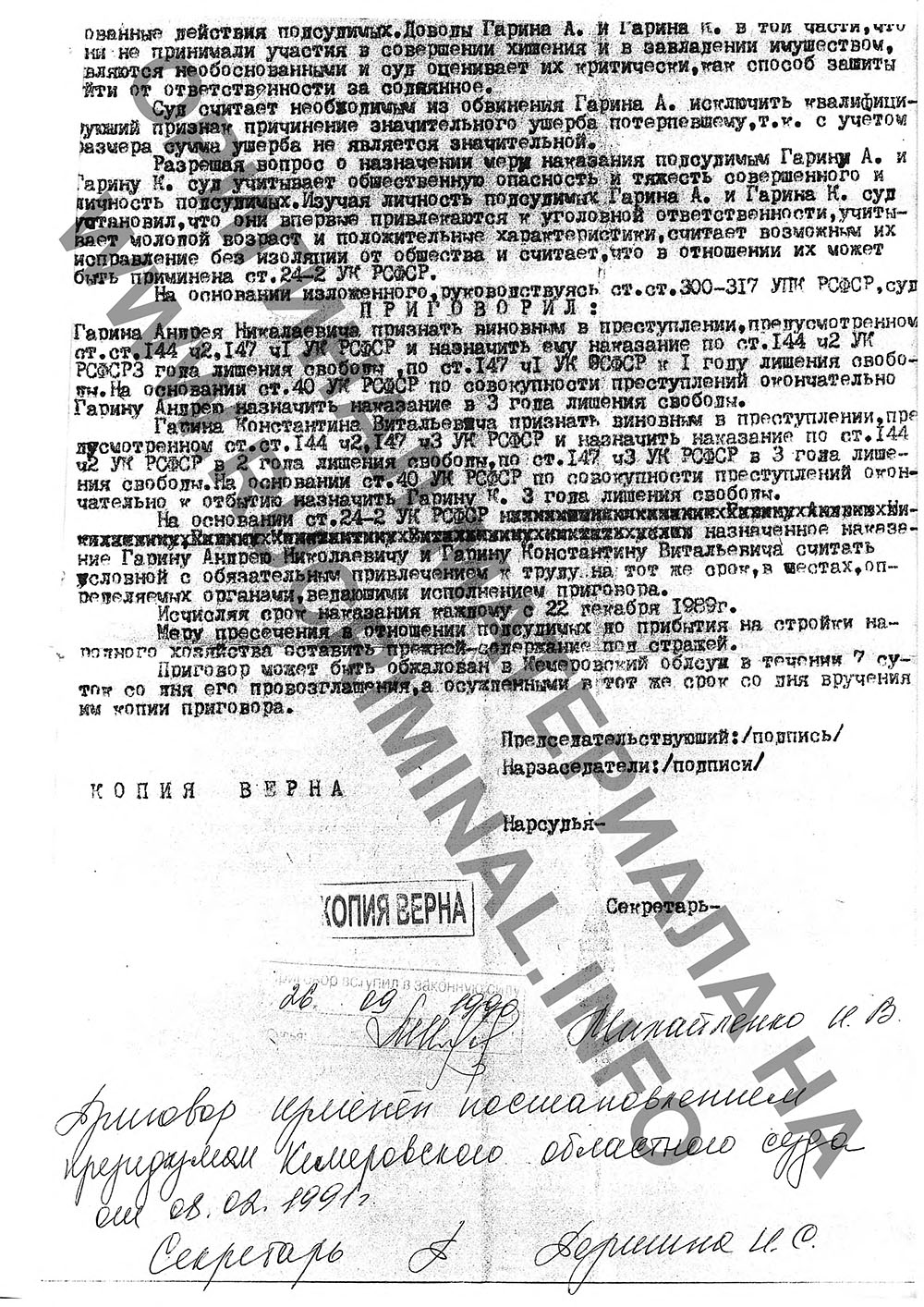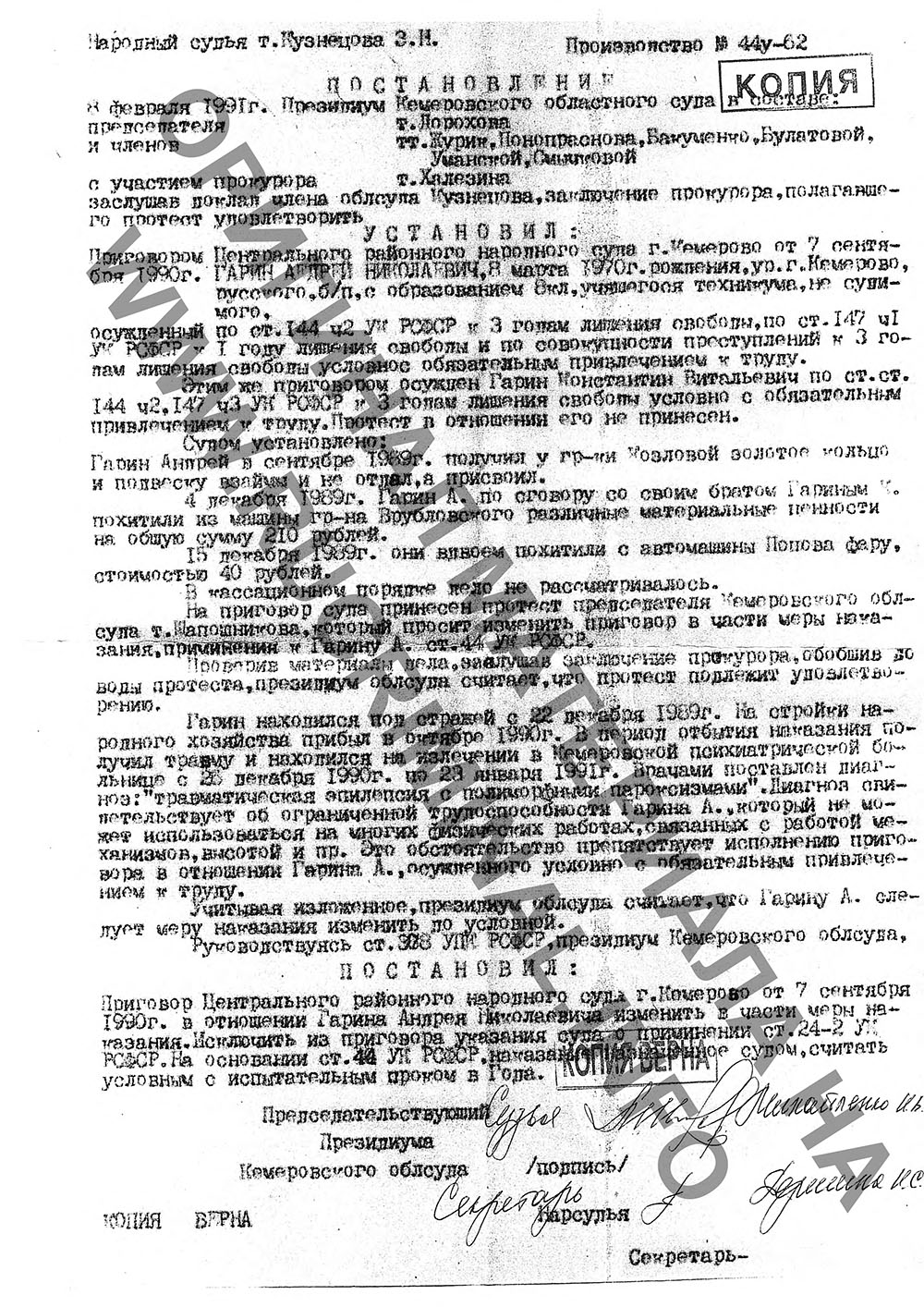 Roman Trushkin
To be continued
Источник: Компромат
---
---
Тарасова правда :: сайт свободных людей
Все об украинской политике, олигархи, которые руководят Украиной, Янукович, украинский парламент, политические новости, выборы, интервью с известными политиками, мнения политтехнологов, новости с регионов, комментарии читателей, ТОП 100 влиятельных украинцев,коррупция в украинской политике, криминал украинской политики,новости Верховного Совета Украины, скандалы украинской политики,женщины украинского парламента, украинские партии и движения, кто стоит за украинскими политиками, кукловоды украинской политики, олигархи и их партии, криминальные авторитеты у власти, криминальное прошлое украинских политиков, политика и криминал, политика и бизнес, бизнес лобби в украинском парламенте.